Pay Later Plan
Pay Later Plan

GRACE HEALTH SCRUBS Offers the convenience to allow you to Shop Now & Pay later for Purchases over $200.00 and no more than $500.00 max.
Step 1: Choose your selections and then Add to Cart
Step 2: Click The Partial.ly Button (Shop Now & Pay Later Button) at Checkout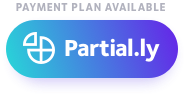 ALL PAYMENTS ARE DUE IN 2 WEEKS FROM DATE OF PURCHASE.
YOU MAY CHOOSE TO USE A CREDIT CARD OR BANK ACCOUNT FOR ACH DEBIT
PAYOFF IS SET FOR 3 PAYMENTS BY DEFAULT. HOWEVER, YOU MAY ADJUST TO A SOONER PAYOFF BETWEEN 1 AND 3 PAYMENTS FOR YOUR CONVENIENCE.ALL ORDERS WILL SHIP ONCE BALANCE PAID IN FULL. PLEASE ALLOW 7 TO 10 BUSINESS DAYS FOR DELIVERY.
ALL PAYMENTS MUST BE MADE ON TIME BI-WEEKLY.
PLEASE, NOTE***ONCE PAYMENT PLAN IS SETUP IT CANNOT BE CANCELLED.  REFUND POLICY WILL NOT BE APPLICABLE UNTIL PAID IN FULL AND UNUSED MERCHANDISE IS RETURNED. (SEE RETURN/REFUND POLICY HERE)